In the nineteen-sixties my parents bought a four-acre block of land on either side of a steep gully in South Australia's Adelaide Hills. In order to qualify for a tax advantage as 'Primary Producers' they planted a Radiata Pine forest on both the lower sides of the valley, leaving the rest as more or less natural eucalyptus scrub. In this era, the Adelaide Hills were not an environment highly conducive to boys who liked to cook. We lived an hour's drive out of town, and most of my primary school-mates were farm-boys. The closest they came to food preparation involved killing rabbits or chickens. Boys who wanted to spend time in the kitchen were rare, and regarded with suspicion.
gully/ˈɡʌli/ (noun)
1.a ravine formed by the action of water.
My father was a University Bio-chemist, and my mother a talented woodworker, photographer and gardener. My maternal grandmother was a fearsome woman who came from an English middle-class business family of a certain social status who had migrated to Australia from around Manchester. She had always had a local woman in to 'do' and her girls did not learn. The youngest in a family of six, my mother had never cooked until her marriage at the age of nearly thirty. It was only once married, and taken almost immediately to Canada to accompany my father on a 2-year research post to Ottawa, did my mother eventually realise that she would need to learn. Even then, it was a repertoire best described as 'post-war functional'.
We were not a family that mixed much. Neither of my parents were naturally gregarious or good conversationalists. Team sports didn't really enter into the equation, so mostly, intellectual and artistic pursuits were encouraged at home. After a couple of obligatory and unfortunate experiences in the highly competitive 'entertaining circle' run by the wives of fellow academics, my mother bluntly forbade any of them to ever return, effectively ending her career as a university hostess. This was a relief to all concerned.
This upbringing of quaint solitude should normally have continued until I left for university, but sometime around 1970, Balázs and Eva Varga built a large house on the other side of the gully from us, abruptly interrupting our semi-rural isolation. The Vargas were Hungarian refugees who had escaped the brutal communist repression following the uprising of 1956, leaving everything behind. In their iteration of the Australian immigrant story, they remade their lives in Adelaide, eventually starting a very successful and popular Hungarian restaurant. In deeply conservative Adelaide of the late 1960's, Decca's Place oozed European-style sophistication in way hitherto unknown in those parts. Balázs had had Swiss-hotel school training and was proud of his skills and all things Hungarian and was keen to share this with the world. They were also practising Catholics, and for my agnostic parents this raised a degree of suspicion.
Not long afterwards, they appeared at our front door one day and politely asked if they could harvest the Pine Mushrooms (Lactarius Deliciosus) which they had noticed growing in abundance under our pine trees my parents had planted in the gully. With some trepidation, they gave consent, wondering how this would end. From then on, the Vargas arrived every autumn after that, and harvested large quantities which they took home and dried for later consumption. after that, I was occasionally invited into their house, to help baby-sit their two children. On these occasions, Eva's instruction was always "Just help yourself to anything you fancy in the fridge". Their fridge overflowed with exciting produce from the restaurant, and was nothing like ours.
Soon, I was introduced to Csabai sausage, fish and sauerkraut soups laden with paprika, spicy bratwurst, speck, goulasch and csipetke, with noodles served apricot jam and walnuts and Kugelhof for dessert. These dishes were impossibly exotic and deeply stimulating. I realised that the Vargas were people who cherished both family and a love of food.
One Easter Friday evening, my middle brother was gathering firewood on a tractor at the bottom of the gully with my mother. He fell off into a creek, and the tractor rolled on top of him. Nick was badly injured, and my mother called up the gully for me to ring for an ambulance to take him down to the hospital in Adelaide. My youngest brother and I were temporarily absorbed into the Vargas' household where Easter preparations were well under way. I was distracted from the stress and fear of what had happened by Balázs, who involved me in the preparation an enormous ham which he was boiling for their traditional post midnight-mass supper. Such extravagance!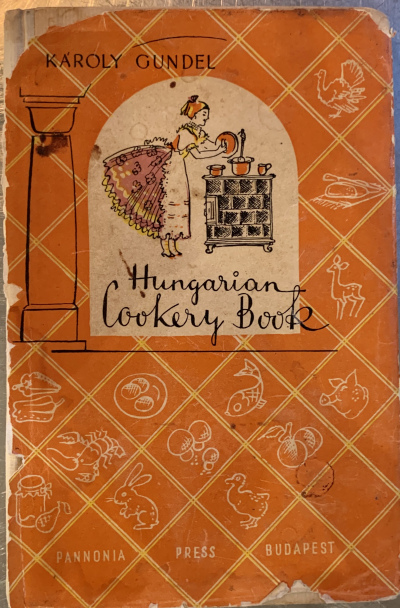 After that, Balázs would often let me spend time with him in the kitchen when he was at home, and patiently answered all my questions He told me about his life growing up in post-war Hungary 'before the communists came', and learning his trade. For the first time, I had a role model who was not only a man, but also deeply proud of being a chef, his Hungarian heritage, and making a good living for himself and his family. Although it would be some years before I would get to work in a commercial kitchen, it was his encouragement that got me interested. My enthusiasm for Hungarian comfort-food also remains.